[Cross-posted from The Russian Front]
I've said it before, but it bears repeating: It's amazing what one can find on the Internet.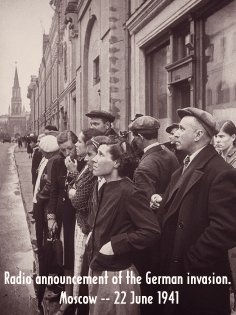 In the summer of 2005, the city of Moscow played host to a photographic exhibit honoring the 60th anniversary of the Great Patriotic War. Titled, "1418 Days," the exhibit drew upon a collection of rare wartime images contained in the archives of the Moscow House of Photography (Московский Дом фотографии) to tell the story the USSR's wartime experience.
Not surprisingly, most of the images concerned the battlefield heroism of Red Army soldiers at the front. But the exhibit included more than a few photographs drawn from the rear as well including scenes of factory life, public demonstrations, the air-raid shelters in Moscow's metro, and bears (no, really).
The material from the 2005 exhibit (including a 40-minute video produced for the occasion) is available for viewing on-line. As is so often the case with these types of things, English-language translations are few and far between, so non-Russian readers will find themselves at a disadvantage.
To view the photographic collection in chronological order, click HERE.
ScP